Trading bots are programs that automatically buy and sell Crypto Currencies on exchanges based on a specific strategy.
There are many different trading bots, some are cloud based, others can be installed on a local computer or your own server.
An easy to use and configure bot is Crypto Hopper. They allow you to connect most of the major exchanges, they have a very active community and they offer a free trial month to check out all of the features.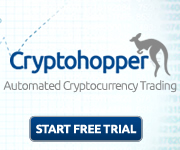 A great new bot, which is just coming out of a very successful beta phase is
Apex Trader
Created by a very motivated and smart group of Crypto enthusiasts, partly frustrated with Crypto Hopper's shortcomings, the new player on the market is quickly making a name for itself.